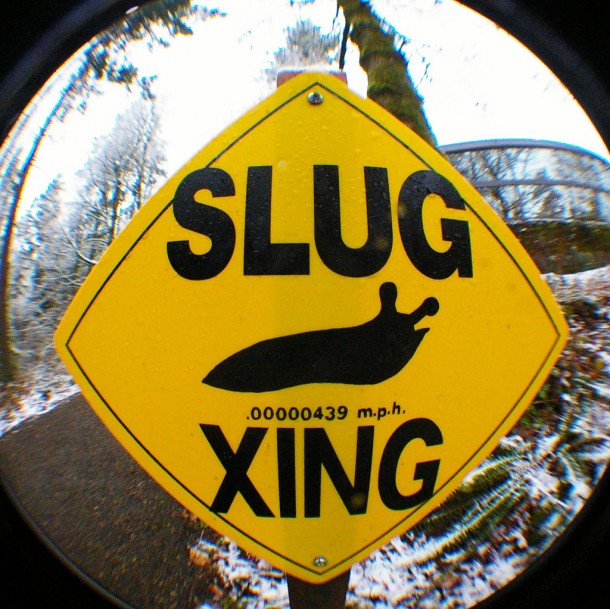 February 11, 2009 : Oregon (fisheye, Nature, Portland)

We used to live in Santa Cruz. UCSC has the banana slug as its school mascot ("No known predators"). This sign is from yesterday's wanderings about Lewis & Clark campus in the snow. It's all melted today. Weird weather… weird signage…
Anyroad, a few business items… First off, one of my mates who is a proper, professional photographer, Mr. Joop Rubens has started a photoblog to go with his flashy pro site, and I urge you to check it out. He's been into photography for donkey's years and got into digital about 5 years ago and has enviable portrait skillz.
Next off, I'm considering consolidating my RSS feeds so that if you've signed up for photoblog emails, you'll get my blog updates too. If that sounds like a bad idea, contact me in the next day or two and I may well reconsider. I try to put photos in all my blog posts too… If you're signed up for both already, you can still unsubscribe from one or t'other.
Thirdly, I've still not printed the photos I promised you and for that, I suck. I'm on it, it's always on my mind and maybe this is the week I'll make good on my promise.
Fourthly, I got ebaying over the weekend and should have  a 50mm 2.0 prime lens to play with in the very near future which is a whole new area to me and I'm looking forward to experimenting. I've another vintage viewfinder on its way too, a Kodak Duaflex II, hopefully full of dust, scratches and blemishes all ready to have a Pringles tin strapped to it.
I won't write any more here cos it puts the whole balance of the design out when there's tons of text. I'm offski 🙂