The frost got the vast majority of our tomatoes but between me and our neighbours we managed to salvage a fair few green ones and ripen them on the window sill. Every year in living memory my folks have made chutney from the tomatoes in Dad's greenhouse so I asked Mum for the recipe and she sent the email below. Thanks Mum! We tasted the chutney last night, and it was by all accounts delicious and having a house full of boiling vinegar vapours on Friday afternoon fair took me right back to KSM… Without further cliché, below's mum's guide to how to make your own: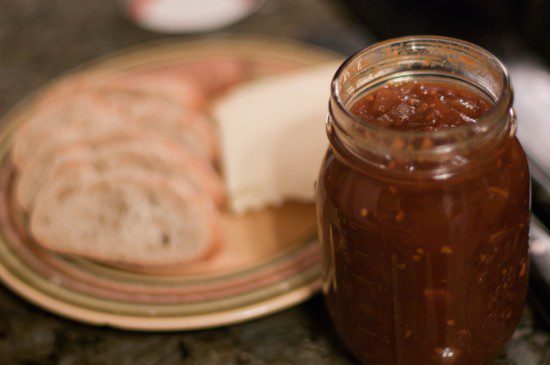 Hi Gwyn,
Here is a quick tomato chutney recipe. As long as you use a reasonable amt of sugar and vinegar, you can chuck in anything that you have surplus/ handy.
Red tomato Chutney.

5lbs of ripe tomatoes
1 lb  onions
3 cloves garlic
2 tsps salt and of paprika
1 tsp cayenne pepper
2 tsps crushed mustard seed
0.5 lbs of sugar
0.5 litre white vinegar

Peel toms by plunging in boiling water for a few mins, then remove skins. I don't bother though. Chop roughly.

Put in large saucepan with chopped onions, garlic and a little vinegar.

Cook slowly till onions are soft.

Add all other ingredients and cook till chutney is thick and well blended.Could take a few hours, 2?

Bottle into clean, dry, jars and cover. Mixture  can be hot or cold.

Can add apples, sultanas, peppers, chilis, mustard or use malt ( brown Welsh) vinegar or use brown muscovado / demerara sugar. Whatever you have works. Add  ginger and other spices for apple chutney. Try curry powder/ paste.
Have fun.
Love Mum xxx
I tried the ginger and curry paste variations and didn't have any mustard seed. Also I used cider vinegar instead of white vinegar. Utah is famous for its canning (something to do with Mormon apocalypse 'hard times' preparedness) so I tried a fancy method that involves special jars and boiling them in water to seal them. In theory this will stop it going mouldy for a year or so. Anyroad, comment if you have any questions about the above.